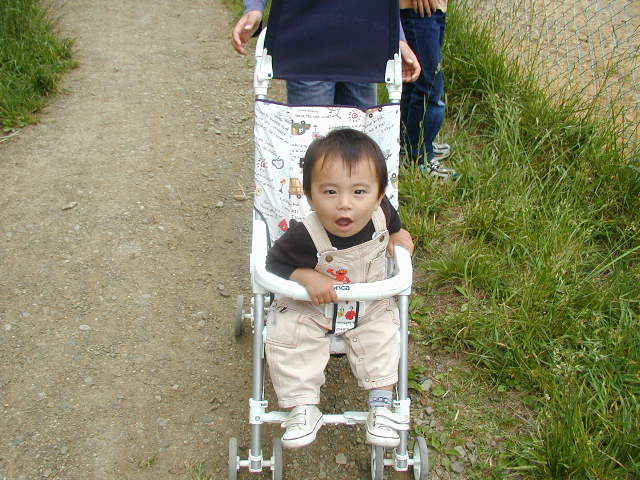 Let me introduce you to my nephew, Manato. Manato is my sister's lovely son. He was born in February of last year. Sometimes, I'm like a home helper for him. He already walks around and has developed a little personality. He smiles and laughs constantly and is almost never cranky.
Recently, he often makes word - like sounds. I read books to him usually pop-up books. He's continually surprised by a certain octopus page again and again. He says "wow" every time! It's so cute!
His soft little baby hand always touch my family's faces.
What's your favorite city?
My favorite city is Sanjo. I was born and raised in Sanjo. And here I'm making knives with my family and some experienced craftsmen.
Sanjo is not an urban area and not a big industrial area, either. But it is an exciting place for me.
I had some good encounters for the past 5 or 6 years. These people are bladesmiths, wood workers, engravers and machine makers. They are really skillful. I'm so lucky, since they are living near my house. It is about 10 minutes by car. I sometimes collaborate with them and acquire their skills.
Recently, I'm creating original jewelry with these skills. Sanjo is not a high technology city; we do not manufacture IC chips or cars. But it is an unique place for possibilities.
What's your favorite season?
My favorite season is Spring. It is an encountering season for me. I attend knife shows in the USA every Spring. I am able to meet many people at these shows. Introducing Japanese knives to American people and discussing them with other knife makers is fun.
It has been about 7 years since I entered the global knife trade. Now some foreign people have became my customers. At recent shows, my customer aimed to come to my booth. A customer who live near the show place, came to my booth every day. Some customers even came from other states and Canada! I was really happy 'cause I could meet them and listen to their voices. They were smiling and loved our knives. They hoped to take pictures with me. It was really unbelievable. Because I'm not a movie star!
7 years ago, I just supplied our knives to domestic wholesalers in my city. Then I didn't think I could speak English or communicate with foreigners. I will keep making higher quality knives for these customers! I will also attend a show in Oregon this spring. I will try new ideas and I want to surprise them with our products!
What's your favorite restaurant?
My favorite restaurant is Fukuizumi. It is a restaurant with a variety foods located near my house. We moved from an old workshop to the current location about 25 years ago. After a few years, Fukuizumi was opened.
Recently, I often order Kaisen-don. Kaisen means "fresh raw seafood" and don means "a bowl of rice". The seafoods include tuna, scallops, sweet shrimp, octopus, salmon roe, yellow tail and calamari. They put the seafood on the rice with soy sauce and Wasabi. Kaisen-don is delicious. I think it is like a big sushi!

My father likes Ramen and Yakisoba. The Gomoku Yakisoba is an especially tasty and sustaining food. The hot, starchy sauce is poured on fried Chinese noodles and served on an American-size plate.

Finally, I recommend the Katsu-don to you. Katsu is a pork cutlet. I think I have already eaten it more than 100 times! It brings back youthful memories. In the past, when guests visited our house, my father always ordered Katsu-don for them. And incidentally, he ordered it for me, too. Katsu also has the mean "Victory" in Japanese, so he liked it for business meeting. The delivery Katsu-don had a cap on the bowl and some pickles, in the small plate, on the top. The unique pottery and Katsu-don was a kind of special cuisine for me when I was child.
Fukuizumi is not such a special restaurant. But it is like an old friend to me and my family. If you come to our workshop, I will invite you to Fukuizumi!
Knife shows are fun!
Last week I attended a knife show in Eugene, Oregon. There were 470 exhibitors in the super large exhibit hall. I went there by plane and rental car. During driving from Portland to Eugene along the freeway, I was listening to rock 'n' roll on the car radio. The speedy talking DJ was so cool. I felt refreshed in mind.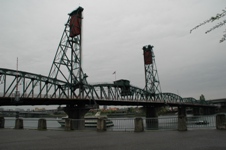 Steelbrigde
I have first contacted the show coordinator Dennis last December. His responses to my questions were always prompt and friendly. He was interested in Japanese knives. And he put an article about me in their bulletin, "The Knife Knewsletter".
Here is the excerpt from the Knews and Musings section,
"Shinici Wantanbe
We are honored to have a bladesmith from Japan holding a table at our April Show. It is a long way to come. You might want to check out his website through our website link. The knives pictured there and seen at our Show will be kitchen cutlery knives. Stop by his table and say hello and see the knives on his table."
I met Dennis at the gathering before night of the show. He was a nice guy as I thought. He gave me the latest knewsletter. There was my profile and my essay about our history from our website. And he told me he has introduced me on a radio program. I smiled, reminded of the DJ on the car radio and imagined did he speak so quick like that DJ, "Shi-Nikki Wontonbee! Coming to Show!! From Japaan!!!" !?
The three days at the show, many people came to my table. I really appreciated Dennis and everything. Four years ago, I began to attend knife shows in USA. At this show I got to see some knife makers and customers I had met at previous shows. I feel that Japanese knives have become a little more popular recently. Knives from our professional grade were sold rather than standard grade models. The people wanted the highest grade knives and understood our quality for the price. One bad thing, some kinds of knives were sold out at the first day. So I couldn't show them in the other days. I should have brought more knives.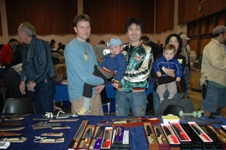 Some people asked me to translate Japanese words engraved on their swords and knives. I saw a Samurai sword from the Kaei period (in 1853!). The owner had got it at a garage sale! Dennis also asked about Kanji on some Japanese antique dishes and my name of pronunciation.
The show had many interesting events. There were metallurgy seminars, carving, engraving, grinding, Budo demonstrations by volunteer lecturers and custom knife competitions. There was a social after the second day. Dennis was the speaker. He was standing at the podium. His speech was so nice. People smiled and laughed easily at his funny stories and jokes. He commended winners at the competitions and contributors at the show. I was also commended as a person who livened up the show. I was really surprising. So he had been practicing the pronunciation of my name! I received their original silver medallion as a token of appreciation.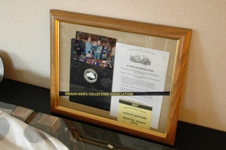 My treasure
Oregon knife show
Knewsletter1
Knewsletter2