Shinichi San,

I hope you are well and happy and that your family is also well and happy.
I received my knives two weeks ago. I have been cooking with them since then. As I mentioned I am a Personal Chef. Last Saturday I moved to Las Vegas, Nevada.
My knives are excellent. Here is what I mean. Balance: superb, they fit my hand and as I hold them correctly the balance is perfect. Sharpness: They are the sharpest knives I have ever used and I have had many, many knives in my career. Handle: Smooth wood, fit is perfect, easy to grip, comfortable against the palm of my hand. Comfort All Day: I use these knives for 8-10 hours a day and their comfort is unsurpassed. Steel: excellent. Weight: comfortable all day long, but heavy enough to cut with very little pressure and effort. Blade thickness: my Nakkiri is thin enough to cut through vegetables in very precise cuts, my Deba and Kodeba are the proper thickness to make precise and pleasing cuts on meat, fish, and harder vegetables etc. Appearance: I like the look of my knives very, very much. Maintenance: wash and dry and they are always ready to go, easy maintenance.
Shinichi these are outstanding knives. Your service is excellent, I enjoy corresponding with you. Shipping was incredibly fast, I was very impressed. You can count me as a loyal, lifetime customer. My next purchase will be a larger Kuro-uchi Chinese cleaver.I am very proud that they are "Hand Made" by you. Hand made is very important these days when many inexpensive knives are made by the millions. I am especially happy that you engraved my "Kanji Symbol" on all of my knives, identifying them as special, hand made and mine. It is very rare that I might know the person who hand made a knife, to me this is very important.
Thank you very much
Your friend,
Tony Marino
Certified Personal Chef

www.dinneranddessert.com

You may use this letter as a testimonial for you excellent work.



Hello Tony,

Thanks a lot for your mail.
I'm glad to hear that!
If you look for any blades, please let me know again.


Shinichi Watanabe
Sinichi,

I got my knives Thursday morning. They are really nice and I'll soon start using it.

Our kitchen is being remodeled, from the ground up, replacing all appliances, furniture, ligh fixtures, counters, etc. Your knives are a nice complement to it.

Thank you very much and I will soon order additional knives as gifts.

Pedro


Hello Pedro,

Please enjoy our Japanese craftsmanship in your home.
Thanks a lot for your mail.

Shinichi Watanabe

----------------------------------

But there is something else, I wanted to tell you for a long time:
I am a semi-professional chef, meaning: I have a regular job, but I also work as cook for special events at a small restaurant, owned by a friend. Since about 2 years, I am proud owner of one of your Kuro-uchi Gyuto knifes.
There are 2 things to be said about this knive you made:
First, your blade became a kind of legend among my friend and colleagues. When ever we have a lot of meat cutting work to do, they tell me: Please bring your Watanabe blade for work.
Second, and very much more important to myself:
Some of my best friends are crafters. So I know how to value hand crafted tools, meaning:
Whenever I use the blade, just for myself at home, you, Shinichi, are guest in my kitchen. While using the knive, I sometimes think of you, as the creator of this blade, hoping you are doing well, and I am happy to use a tool that somebody hand-made, putting his art, his honour and his reputation into his work.

I am lucky to have one of your Kuro-uchi Gyuto knives. Your blade became a kind of legendary among my friends and cooking colleagues.

Thank you very much for your work.
Best wishes from Vienna, Austria
Christian

----------------------------------

Hi Shinichi
I thought you would like some feedback on your nakkiri.
I have used it to chop ginger onion & garlic & to slice cabbage & other vegetables It is wonderful! It is like a surgical scalpel. Because it is light & very sharp it is easy to use with precision.
Preparing vegetables becomes an enjoyable & pleasurable task.
It is exactly what I hoped it would be.
Being a double bevel blade it is easier to use than an usuba.
Your knives are everything I look for - precision tools handcrafted with love & expertise.
I can't go back to using ordinary knives!
Many Thanks
Alan

----------------------------------

I have received the knife set, and they are excellent. Thank you very much. For fun, I sliced some onions with the vegetable knife. I was able to slice them so thin, I could read words from a newspaper through the sliced onion. These are the best knives I have owned. (My "old" set is a professional German set of knives by Wusthof. My Wusthofs are very good. Your knives are amazing.) I heartily endorse your knives to anyone who is serious about cooking -- not only professionals, but home gourmet cooks. This is a heirloom collection -- the last chef's knife set anyone will ever need. Please feel free to use these comments to help sell your knives.

Yours, Eric Larsen Key West, Florida USA

----------------------------------

Servus Shinichi,
Ich mochte Dir sehr zu Deiner ausgezeichneten Arbeit gratulieren! Letzte Woche ist mein Yanagi bei mir eingetroffen und ich habe es sofort ausprobiert. Ich habe bereits jede Menge Fischfilet geschnitten und Sushi zubereitet, die Sch?rfe ist ein Traum. Bei Dir findet man wirklich noch echte Handwerkskunst zu sehr fairen Preisen!

Beste Gruesse Guenter

----------------------------------

Shinichi san,
You ROCK !!! I received my knives this morning...WOW ! They are so sharp and the craftsmanship is superb. Worth every penny. Five day shipping including our Thanksgiving holiday. In this time of mass produced EVERYTHING, it is a pleasure to know that there are people like you that still take pride in making something by hand that is superior in quality. I will think of you every time I use my Watanabe knives. If you ever come to San Diego, I would be honored if I could cook you dinner. Domo Arigato and customer for life

Bill, Vista, CA

----------------------------------

Shin-ichi San:
We have seven of your knives, and all of them (even the every-day ones) are spectacular. We use them many times a day, and I think fondly of you, and am impressed by your craftsmanship with every use. They are truly a pleasure.
Thank you for taking the time to add some of your essays to your web site. I was interested to see that you were attending knife shows in the United States. I would love to attend one where you were an exhibitor, or if your travels to and from Japan took you through Los Angeles, to have an opportunity to greet you in my home city. Continued best wishes, and I look forward to meeting you in person some day.

Sincerely,
SB Los Angeles, California

----------------------------------

Wantanabe-san,
I received the knife in good order and have had several chances to use it this week. All i can say is "wow!". it is an amazing piece, i cooked for several years around several types of knives and have never seen its equal. i look forward to many years of use. as soon as i can get some time to sit down and figure out what i need, i would like to order a few more.

kind regards,
John, Surrey, UK

----------------------------------

Shinichi.
Your blades arrived yesterday, Very fast postal service.
As to the blades... I am speechless! First test, through a swedish potatoe. Like just moving the blade in thin air!
If you need some european person to vouch for the high, no superior, quality of your knives, I will be glad to write any kind of comment you would find good for your company or the family on the homepage or wherever you would like.

THANK YOU.
Anders, Borensberg SWEDEN

----------------------------------

Hi Shinichi,
The Yanagi arrived today. I must just say that I am very impressed with the postal service in Japan- very impressed!! However I am tenfold more impressed with the blade that you have produced- it really is a work of art and the most elegant blade that I have ever handled- I am no expert on Japanese blades but this is a tribute to the metal working heritage of your fine country- simply beautiful! You should be very proud of your ability and I look forward to ordering further items from you.

Many and sincerest thanks,
Alex, johannesburg South Africa

----------------------------------

Mr. Watanabe,
After working with your knives for one week I have determined that they are the best knives I have ever used; and I have used many, many, knives. You make a fine product with obvious care, diligence, and high artistic standards. I will be ordering from you again in the future so that I may have a fully functional set made exclusively by you.
I have attached a couple of pictures for you to see what I have been doing to test your knives. Note the thinly sliced mushroom in my hand and also the thin slice of garlic on the blade. The other pictures are very small dices of carrots. Thanks again and I look forward to doing business with you again.



Warmest regards,
Robert, Texas

----------------------------------

Schinichi,
I received my knives yesterday. I tried them out last night and am impressed with the quality. They are exactly what I was looking for.
I would like to thank you for your quick shipment. I am very impressed that I can receive something from Japan in less than a week. It takes me longer to get something from Chicago.
Please feel free to use this as a testimonial.

Thank you very much,
Brian, USA

----------------------------------

This thanks is long over due. I have bee using your Blue Steel 8 inch Usuba Blade for almost a year now. I honestly have to say it is the best knife I have ever used! Getting use to the oxidizing blade has been an adventure itself. But the ease of cutting and maintaining of the edge have been a dream come true. So thank you for the best knife I have ever used!!

Matthew Hammett

----------------------------------
- 270mm honyaki kiritsuke gyuto: I am very happy with this knife, it feels very nice in hand, is very agile and cuts very well. I've used it on both vegetables and proteins and have been very happy with the results. The knife is also very easy to wield and makes delicate work possible for such a long knife. It is definitely the best knife I own.
- garasuki: I have enjoyed using this knife a lot, it makes deboning chicken really easy. The tip is very good and allows me to easily cut the ligaments and the knife cuts very well. I have been able to make very nice tori kara-age from whole chicken with this, I never but pre-cut chicken anymore :)
- ryodeba: I have used a few times for rougher work and it perfoemed really well. I use it less often than the two other knives.
Walid

----------------------------------

What's your favorite knife?
Watanabe Blade [watanabeblade.com], a Japanese brand. It's really just one guy whose family has been making knives by hand for over a century. They're scary sharp. You can look tell they're handmade.

Interview with Sean Brock
There are our world customer's comments.
They are nicknames.

Joel Simpler
The knife cuts meat like it was a piece of soft butter or tofu!

Lars
The knives are absolutely stunning and the performance is superior. Extremely sharp with a perfect balance. You are a true master. I love every second I use them. Look forward to order some more products from you.

Alex
I currently have 2 of your Kurouchi knives given as a gift to me by my mother - a 270mm Gyuto and 180mm Nakkiri. Each is phenomenal, and they are the pearls both functionally and aesthetically of my small collection! The Gyuto is my go-to knife and use it nearly every day.

Evan
I purchased a honyaki gyuto about 2 years ago from you. It has never failed to please and is in daily use in my restaurant. We do alot of fresh made to order meals that require alot of knife work during service. Although the 240mm gyuto is unbeatable for long and arduous prep periods I find it a little too long on our cramped line boards and also a little worried the knife may have an accident one day during a busy rush. I was wondering if you could quote me for a 180mm gyuto with the same depth of blade at 55mm in the laminated blue steel professional series? also with octagonal ho wood handle; the same as my honyaki 240mm Thankyou for your time. Kind regards,

Laurahayes1
Tremendous knives...highly rec.

Yiqaz3nn
Excellent communication and prompt delivery! A+++


Typenut
perfect, as good as the one I bought than I went to your shop 15 years ago.

Joeyowl
Great product. Extremely fast shipping.!!! A++++

Psioux
Wonderful transaction....fast, fast shipping...great product...thanks

Wildchefbill
Geat knives!!! VERY fast shipping. Thank you.

Evileddisb
Fast shipping and great knives.

Gh381
Very fast. Great service. NO EXTRA CHARGE FOR LEFT HANDED KNIFES WONDERFUL!!

Warrenton
Knives were incredible, quick delivery. Bought another set already! AAAAAAA+

Take5th
Super Knives. Prompt shipping. Pleasure to deal with. Great Seller!

Kde7
Amazing how fast it was shiped! Great product! AAAA+++++++++++

Ladygirl2u
Fast shipping..Love these knives...Good product

Nevertomanygadgets
Outstanding set of Kitchen Knives! The best service on internet!!! A+++++++

54gale
quick response and mailing/great seller/very sharp knives

Color me up
Great Seller... Great Communication, Ships Promptly - HIGHLY RECOMMENDED


Beau13
WOW!! Unbelievable, excellent quality knives, 4 day ship to east US, WOW! A++++

J.C.Arbman
Very fine knives, fast delivered - very good service! Domo arigato gozaimasu!

Rggreisel
Extremely pleased with the quality of these knifes & the quick shipping (7 days)

Vintage-watch-shop
Two day delivery from Japan, Super deal - Thanks

Tbphill
fast and friendly, knives excellent, will buy from again

500wood
smooth and prompt

Ms.Miny
best deal Higher quality steel than anything you could buy for the same price.


Bill805
OUTSTANDING!! seller..SUPER FAST!! shipping..THANKS AAA+++ all the way


Hantj
INCREDIBLE SERVICE AND THE FASTEST OVERSEAS SHIPPING EVER! LOVE THE KNIVES!!!

Chintzel
Great knives. Fastest shipping!

Jthoma99
an absolute artist with only the highest of ethics...great product and service

Eric.the.fly.guy
seller was very quick and professional, and delivered high quality products.

Pfiintl
Quality knives.Great value.Received shipment quicker than from sellers in U.S.!


Kikita nl
Real craftmanship! Quality Goods! Fast shipping from Japan to Europe!!! A+++++++

Agskog
very nice knives, prompt delivery

Markdowdy1
Super fast delivery, super nice guy, a true pleasure to work with! A+++++!

Holygeeze
FROM JAPAN in 4 days,unique and sharp knife set. I am very impressed!!!

Monkeebones
Great Traditional Japanese Craftsmanship. So friendly. Very Fast Ship.A+A+A+

Clcampbell
Nice product. Super fast delivery!! Thank you!

Fourteenstring
Excellent communication and fast shipping. Great product! Thanks.

Solamnia1
Great Transaction. Bought another set of knives. Fast shipping. AA++++

Peggywaite
very good dealer and wonderful response, knives are great!!

Sujikabuto
excellent knives by Watanabe !!!!!!!!!! Fast shipment

Flubis
very nice knives, good work watanabesan!! I will be chopping Tuna tonight !!!!!

100greatdeals
Good Communication...Extremly Fast Delivery From Japan...Highly Recommended!!!

Caballerojudio
Awesome knives, easy, quick transaction. Buy Watanabe knives, everyone!

Justisjoe
Truly a remarkable seller, great items at a great price. Thank you :-)

Luciusbobo
Prompt delivery, smooth transaction, excellent prduct, highly recommend.

Ndmcclur
domo arigato gozaimashita, Watanabe san! excellent quality at great price

Polyesterigel
great deal excellent 5Star * * * * * thanks a lot

Szephyr
A customer's dream! Great to do business with! Wonderful product! Domo arigato!

Mantispid
Item arrived quickly! In great shape too! Thanks!

Garryl
Well-crafted knife-set -- truly perfect transaction, fast shipping! Domo!

Bobieone
Beautiful Products!!! Quick Shipping. Highly recommended!

S keen
Fast delivery, Great product, Honest, Great communication. The perfect seller A+

Kuka99
Great product. Pleasure to do business with. Friendly and Prompt. A+++

babblyrekha
Excellent turnround no hestitation in recommending

Aparalegal
THE GREATEST MAKER EVERYONE SHOULD BUY THESE GREAT KNIVES

Tomcat727
Good Quality merchandise. I have bought two sets of Knives!

Yslair
AUSGEZEICHNET!! - Highly recommended, nice communication, great knifes!! 15/15 p

Furrbear
Great communication,Very fast shipping, high quality knives, "Ichiban" Maker!

Taozup
Beautiful Knives. As a Chef I would know. Quite Pleased!!! Domo.

Divap
beautiful knives--I will love cooking with them! Thank you!

Soren
Got the knives. As always.. beautiful. You have the best service in the world, and fast.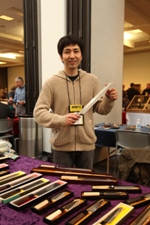 Thank you so much! -From Watanabe Blade staff-