Professional Kurouchi Santoku and Nakkiri knife 165mm with horn
General-purpose kitchen knives originating in Japan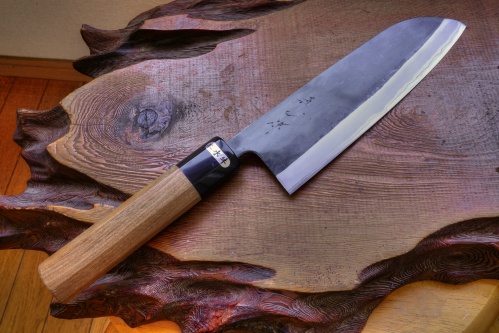 Both knives are the most popular length 165mm in Japanese all purpose knives. They have the best steel, the best forging, and the best handle that we know of, for many practical uses in the world. So if you aren't satisfied with these knives, we can't do anything more for you. I believe you can use these knives for more than 20 years.
Santoku: San means three in Japanese. Toku means virtues or uses. The three comes from its use in cutting meat, fish, and vegetables. Santoku bocho is also called Banou bocho (utility), Funayuki bocho (the shape is like ship) or Bunka bocho (culture). The Gyuto has a sharp triangle shaped blade. The Santoku's shape falls somewhere between the shape of the Gyuto and Nakkiri. This Santoku knife was born from the new western food culture chef's knife and the traditional Japanese vegetable knife using Japanese blade making technique.
Nakkiri: People sometimes feel danger from knives with a sharp point. That is why the Nakkiri doesn't have the point. The rectangular blade which people love, has a less intimidating shape. The Nakkiri brings back fond memories of my grandma. This is an old shape. Actually, we can't find many Nakkiri knives in shopping centers even in Japan, but please try one. The wide, straight edge blade is really functional and is specialized for cutting vegetables!
#1 Professional Kurouchi Santoku knife, 165mm blade,

Total length: 305mm, Width: 49mm, Thickness: taper spine 4.5 - 1.6mm,
Price:

JPY23,000

In stock

Limited 5 pieces in every months
#2 Professional Kurouchi Nakkiri knife, 165mm blade,

Extra pictures A

Total length: 305mm, Width: 52mm, Thickness: taper spine 4.5 - 1.6mm,


Price:

JPY25,000

in stock

Limited 5 pieces in every months

Click the video "a user in Russia"
Double bevel, Blade: Yasuki blue steel core with stainless outer, Handle: Octagonal shaped Enju wood with water buffalo horn hilt