---
Bushi with Urushi Saya
Gyuto 240mm with Bushi engraving and Momijinuri Urushi sheath
Double bevel, Blue steel
Keyaki wood octagon handle
Bushi engraving with 24K gold Zogan
Ho wood sheath with Momijinuri Urushi (24 Kinpaku Gold in side)
Blade 240 mm Width 52 mm Thickness: Tapered spine 4.8 - 2 mm
JPY128,000

Shipping your charge (Shipped Internationally)



Dragon sujihiki knife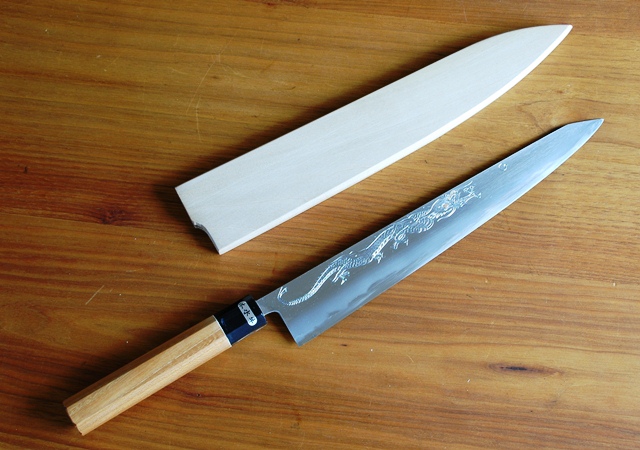 Click the photo!

Dragon Sujihiki knife 270mm
Double bevel, Blue steel, Octagonal Keyaki wood with horn hilt handle,
Dragon engraving with 24K gold Zogan
Ho wood sheath
Blade 270 mm Width 40 mm Thickness: Tapered spine 3.2 - 1.5 mm
JPY90,000 1 pc in stock

Shipping your charge (Shipped Internationally)



Sakimaru Takohiki knife with Dragon saya
Sakimaru Takohiki knife with Dragon saya Kintaro-ame Sakimaru Takohiki 320mm
Single bevel, Kintaro-ame blue steel, Ebony octagonal handle with horn hilt,
Ho wood sheath engaraved Dragon
Blade 320mm, Custom wide 32mm, Thickness 4mm.
JPY220,000 1 pc in stock

Shipping your charge (Shipped Internationally)



The engravings

Picture Engraving
We can engrave a:
Dragon
Phoenix
Tiger
Lion
Bear
Bird
Panda
Rabbit
Turtle
Shark
Koi fish
Flower
Tree
Bamboo
Mt Fuji
Benten
Person
and...
The delivery is 2 weeks
The extra cost is
about JPY10,000 - JPY50,000



Name Engraving
We can engrave a name or words of your choice in your blade.
For example, click here.


We will be happy to use Kanji characters, Hiragana, Katakana or the Roman alphabet.


This will add a few days to your delivery time and the extra cost is about JPY300 a few words. Write me with your request and I will get back to you with a quote at the earliest opportunity.


Attention
We don't accept returns for the engraved knives for at any reason, except in the case of inferior products.





The engraving techniques we use are a unique traditional Japanese technique. This is available only on our laminated blades, such as our kitchen knives, because they have a soft wrought-iron layer. Western knives, solid stainless knives and solid carbon steel knives are not able to have any extra engravings due to the hardness of the metal. Please enjoy our fine traditional Japanese craftsmanship! You will love showing off your hand-engraved knife at every chance you get!


We can insert diamond, sapphire, or ruby in the blades. If you are interested in them, please let me now. The cost will be JPY15,000 - .


---
Copyright (C) Watanabe Blade. All Rights Reserved.